Karsten S. Weber, DPM, MS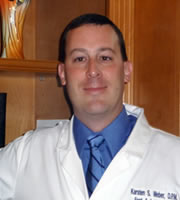 Dr. Weber was raised in Overland Park, Kansas, after moving to the United States from Munich, Germany at age twelve. He completed his undergraduate studies at Baker University in Baldwin City, Kansas, where he received a Bachelor's degree in biology with a minor in music. He then attended Barry University School of Podiatric Medicine in Miami, Florida, where he graduated with a Doctorate degree in podiatric medicine and a Master's degree in the biomedical sciences. Dr. Weber completed his residency training at JFK Medical Center in Atlantis, Florida with heavy emphasis on trauma and reconstructive foot and ankle surgery. Dr. Weber is board certified in foot surgery and reconstructive rear-foot/ankle surgery by the American Board of Podiatric Surgery. After completing his residency program, Dr. Weber moved to Lake County where he subsequently joined Dr. Robert Bewley at Lakeside Center for Podiatry. Upon Dr. Bewley's retirement, Dr. Weber took over the practice and renamed it Lakeside Foot and Ankle Center. The practice has steadily grown, and, in 2009, Dr. Weber invited his longtime friend and med-school classmate, Dr. Stirling, followed by Dr. Hancock in 2012, to join his efforts. Through all of these changes however, the ideology of the practice has not changed and continues to rest on the principle of providing personable, compassionate, and skilled care to every patient.
In his spare time, Dr. Weber enjoys customizing cars, boating, working out, and spending time with his four children.