Nicole Hancock, DPM, FACFAS, FAPWCA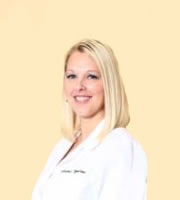 Nicole D. Hancock, DPM received her podiatric medical degree from Barry University School of Podiatric Medicine in Miami. She completed a three year residency program at the Houston Podiatric Foundation in Houston, TX where she received her surgical training and focused extensively on forefoot and rear foot surgery as well as diabetic wound care and limb salvage.
Dr. Hancock was raised in Texas and completed her undergraduate degree at The University of the Incarnate Word in San Antonio. She joined Lakeside Foot and Ankle Center in November 2012 after practicing for several years in Texas. Dr. Hancock is a board certified foot surgeon by the American Board of Podiatric Surgery and is also Physician Certified in Wound Care by the Council for Medical Education and Testing (CMET). Dr Hancock treats a wide range of foot conditions and has a special interest in pediatric and geriatric patients.
Dr. Hancock is married to Dr. Jason Hancock who is also a podiatrist and they have one daughter, Abbigale.