Alexander A. Stirling, DPM, FACFAS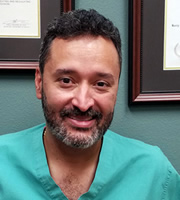 Doctor Stirling joined Lakeside Foot & Ankle Center and his long time friend Dr. Karsten Weber in June of 2009 after practicing in Clearwater, Florida for four years.
Dr. Stirling was born in Chicago, Illinois and raised in the Republic of Panama, where he completed his preliminary education under the Department of Defense educational school system. He completed his Associate in Biology degree with high honors from Panama Canal Community College. Dr. Stirling obtained his Bachelor of Science in Biology after transferring to The University of South Florida in Tampa Florida. He also obtained a Bachelor of Arts degree, an interdisciplinary in natural sciences with an emphasis in chemistry. Dr. Stirling attended four years of post graduate training at Barry University School of Graduate Medical Sciences, School of Podiatric Medicine and Surgery where he graduated as a member of Pi Delta Professional Podiatric Honor Society. He completed three years of residency training at the Veterans Affair Medical Center in Miami Florida where he served as Chief Resident during his final year. He is Board Certified in Foot Surgery and Reconstructive Rearfoot & Ankle Surgery.
Dr. Stirling is presently on staff at Leesburg Regional Medical Center, The Villages Regional Hospital and their associated facilities.
Dr. Stirling's training includes all aspect of lower extremity care. Pathology treated includes ailments of the foot, ankle and leg in both children and adults. Areas of particular interest include but are not only limited to: limb salvage and the complexities of the diabetic foot, wound care, flatfoot conditions, traumatic injuries of the foot ankle and leg and sports medicine. Medical and Surgical care is performed under elective and emergent/ urgent settings.
Dr. Stirling's overall approach to patient care is to treat an individual in their entirety with consideration not simply to the foot, ankle or leg but to the overall mental and global well being of each individual. This takes into consideration the home, family and work environment of each person. Of utmost importance is the ability to communicate, trust and understand each other and the treatment decisions made. Without mutual respect and understanding between doctor and patient we may fall short of our ideal outcome. Treatment decisions are typically made together after a thorough discussion of the presenting pathology and of the possible treatment options.
Dr. Stirling has been happily married to his best friend since 1999, who has been his life-long companion since 1988. The Stirling's are blessed with three beautiful daughters.